How to Use GarageBand for iPhone: An Introduction to Live Guitar Options
Knowing how to use GarageBand for iPhone is a gateway to a world of musical possibilities. From drum synthesisers that allow you to create your own beats, to the live audio and digital effects boards that work seamlessly with your Fusion Guitar, GarageBand is a simple, all-in-one platform that makes a perfect introduction point for anyone looking to produce music.
With that said, although this app will feel very familiar to anyone that has used production software in the past, the wealth of options can make it a little difficult to get up and running for newcomers. So, to help you unlock the true musical potential of your iPhone here's a quick guide on how to use GarageBand to play and record guitar.
Choosing Your Amplifier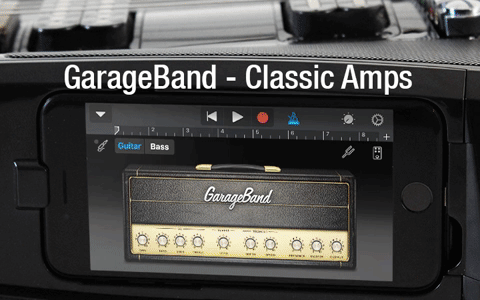 For those that have bought a Fusion Guitar, or are thinking of doing so in the future, this will be the primary benefit of GarageBand for performing. GarageBand offers latency-free live audio, meaning that you have a wide range of digital pedals, amps, and audio tweaking options at your disposal for both playing and recording guitar.
On the amp side of things, we have a wide array of options to choose from based on your preferences and playing style, everything from jazzy clean to high gain metal.
These break into a few categories:
Tweed Combos - Based in the American combo amplifiers of the 50s and 60s, these sounds defined the sonic identity of blues and country-rock. Ranging from warm, clean tones to grinding distortion, the tweed combo amps are perfect for bluesier, rootsier guitarists.
Classic American Combos - Similar to the tweed combo amp, but with a stronger focus on tight, low-end sounds and note definition, the classic American combo offers a cleaner distortion that is perfect for surf rock, jazz, or even R&B.
Metal Stacks - As the name suggests, the metal stacks are high-gain, high-power amps that are the first-choice for saturated metal distortion. While you're not going to get the smooth, clean tones of the classic American combos, with sounds ranging from "crunch" to "extreme overdrive", they are the best option for anyone that wants to make their guitar scream in anguish.
The British Options - From the perspective of range, British amps take the top spot on GarageBand iOS. With British stacks bringing thick chords perfect for classic rock and early metal, British combos providing a more mellow, pop-ready sound, and British alternative allowing for a more aggressive "Britpop-esque" sonic selection, there are many chances for experimentation in this versatile range. 
All of these amplifier plugins have the full range of traditional controls and can be altered and experimented with, so those learning how to use GarageBand for iPhone for the first time have a lot to be excited about. With that said, a more direct method of altering your guitar's sound is, of course, the pedalboard.
Placing Your Pedals
One of the greatest selling points of GarageBand iOS when I first picked it up was that not only could you place several effects pedals on your guitar, you could also choose the order in which they were placed. While this may not seem important for those just starting out, the positions of your pedals in the chain will completely change your sound.
For example, say you have a fuzz pedal and a delay pedal connected and ready to go. Placing the fuzz pedal before the delay pedal will mean that your guitar is being distorted, then that distorted guitar tone is being delayed. This will likely lead to a much cleaner tone than the alternative of a delayed guitar being distorted and will provide you with significantly less feedback.
This is the joy of versatility and customisation, as GarageBand for iPhone allows you to do anything you like with the tools provided. Each pedal will come with further customisation in the form of virtual knobs and buttons to change the effect of that specific pedal. For those that would like to experiment with their guitar setup, but aren't in a position to buy an abundance of pedals to try out, this is a great starting point.
Utilising the Fusion Guitar's smartphone integration and built-in speaker will also allow you to seamlessly test out these sounds in a live context. Simply turn on the guitar, attach your iPhone, choose your pedals and go!
~
This is just a brief overview of what GarageBand has to offer, and we will cover more options in future blogs. Learning how to use GarageBand for iPhone is a great way to bring out your creativity with a simple, pocket-sized program that you can take anywhere. Plus, coupled with the Fusion Guitar, you have an all-in-one setup for practising, performing, recording, demoing and more!
To stay up to date with Fusion news and tips,
visit our blog
, or
click here
to learn more about the Fusion Guitar experience today.